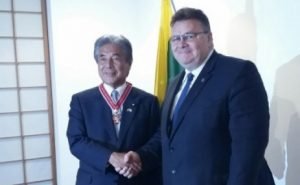 On 10 May, the Minister of Foreign Affairs of Lithuania Linas Linkevičius concluded his working visit to Japan. At the Embassy of Lithuania in Tokyo, Linkevičius met with Japanese representatives of the world of business, science, politics, culture and with members of the local Lithuanian community. During the event, Linkevičius conferred  the award of honour – Lithuanian Diplomacy Star – on the Chairman of Japan-Lithuania Friendship Diet Member's League Hirofumi Nakasone.
"The Chairman's contribution to the development of cooperation between Lithuania and Japan is immeasurable. Thanks to Nakasone, the inter-parliamentary relationship between our countries is strong and intense. Moreover, Nakasone's personal involvement in deepening the relationship between Lithuania and Japan in the field of science has particularly enriched our bilateral scientific cooperation," said Linkevičius.
Nakasone is a seasoned politician and a long-time friend of Lithuania. He has held various positions in the Japanese government, such as Japan's Minister of Education, Science, Sports and Culture, the Minister for Foreign Affairs, and the Special Adviser to the Prime Minister. Now, Nakasone serves as a member of the House of Councillors, and the Chairman of Japan-Lithuania Friendship Diet Member's League.
Among other guests there were also CEOs of notable Japanese companies, such as NTT Data, Japan's Agency for Medical Research and Development  (AMED), Japan Bioindustry Association (JBA), Telecom Service Association (TELESA), Japan External Trade Organization (JETRO), and the largest travel agency in Japan – JTB Corporation.
Lietuvosvalstybe.com            
Šaltiniai: urm.lt informacija
Cituojant ar platinant lietuvosvalstybe.com informaciją būtina nuoroda į informacijos šaltinį.